CONSERVATION BURN / BIOCHAR WORKSHOP
Sponsored by the Napa County Resource Conservation District
Calmere Estate Winery
Friday February 7th, 2020
9 AM to 12 PM
$45 per person
Download Flyer Below:
Featuring Raymond Baltar, SBI Director
Garrett Gradillas, Burnmeister
Will Bakx, Sonoma Compost, West Marin Compost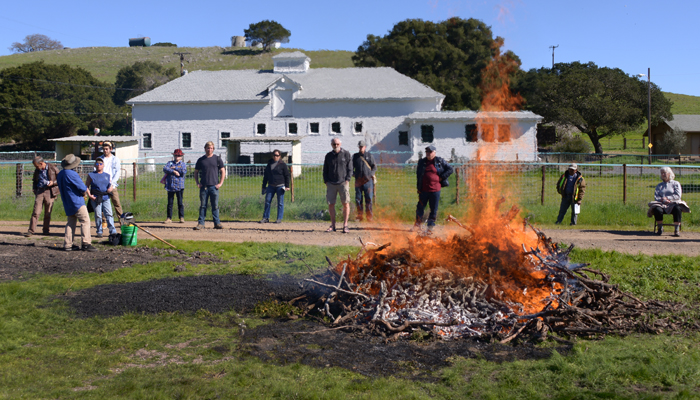 ________________________________________
NOTE:  THE FOLLOWING EVENT HAS BEEN POSTPONED DUE TO WEATHER.  CHECK BACK HERE, OR WITH STEVE FEHER, FOR THE NEW DATE.
You are invited to a demonstration of On-Site-Biochar-Production this Saturday, January 18th, at my property in Paradise, 656 Edwards Ln (corner of Oliver Dr. & Edwards Ln). We will use Kelpie Wilson's (
http://wilsonbiochar.com
) Ring-kiln and Oregon-kiln methods, which we already demonstrated at several site in Butte County (see photo below.
We will start 9:00 AM and work till mid-afternoon. We will put you to work loading wood on the fires. Please bring your own drinks and lunch (this is a low-budget operations, run by student interns – organized by Butte College)!!!
Pass the word!!! We are hope to see as many Ridge residents as possible!
See you Saturday in Paradise!
Stephen I. Feher
Executive Director, Sustainable Community Development Institute (SCDI)
Associate Faculty, Engineering and Technical Director, EPA-P3 BIOCHAR R&D Grant Project at Butte College
Member of Butte County Fire Safe Council and Tree Safety and Usage Working Group
Cell: (530)327-8355
Email: sifeher@scdinstitute.org, feherst@butte.edu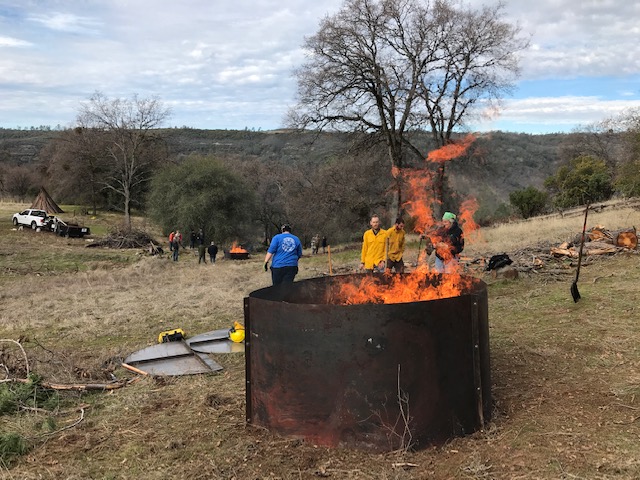 ________________________________________
ROI Carbonator 500 Demo Day
Falk Forestry Mill
We co-sponsored this recent event that was attended by over 70 biomass procurement and utilization stakeholders, from Sonoma Water to NRCS and RCD's, from tree care companies to composters, from the SFPUC to Jackson Family Wines, and from an amazing array of landowners, farmers, forestry professionals, and agricultural consultants to biochar enthusiasts.
The turnout was visual proof that people from many stakeholder sectors are interested in this type of technology that can process large amounts of biomass in a much cleaner way than typical open burn piles and that conserves carbon as biochar at the same time.
This machine is available to rent, either as a stand alone machine or with all of the balance of system infrastructure that is required and experienced operators from Falk Forestry.  Contact
Dan Falk
if interested.
_______________________________________
We are looking to showcase biochar-related projects or opportunities in California. If you have a project that is either in the works, now operational, or recently completed, please let us know by sending us a description up to 1500 words, along with your contact information. There are some amazing field trials, creative uses of biochar in filtration or pollution applications, innovative technologies, emerging informational sources such as books, articles and blogs, and grant RFP's that we would like to spread the word about.  Please let us know what you or others are up to and we will publicize it.  Send queries to raymond.baltar@gmail.com.
Biochar Tree Seedling Pot Trials (Guess which one had biochar?)
Photo courtesy Grant Scheve, AgraMarketing
 _____________________________________________
The Sonoma Biochar Initiative would like to thank the amazing cross section of people  who attended and contributed to our Biochar Forum at Shone Farm in Sonoma County. Representatives from local RCD's, NRCS, UC Cooperative Extension, a variety of farms, SCWA, Fire Safe Councils, the Sonoma County Forest Working Group, the County of Sonoma,  two of the largest biochar producers on the West Coast, and many others just interested in how biochar fits into a low-carbon economy, shared ideas and ways to use biochar to solve common problems. Special thanks to Michael Maguire from the Governor's Office of Planning and Research for his update on the exciting grant projects and efforts to quantify biochar's benefits that are supported through state funding, to Susan Haydon of Sonoma Water for her logistical help, and to Shone Farm for the use of their beautiful space.

Charlie McIntosh of Pacific Biochar presents recent results from SBI's
DWR grant project at a vineyard near King City, Ca.
We are in the process of building a new coalition of stakeholders to scale biochar education and use both locally and throughout the state, so stay tuned. We will be holding a number of additional meetings in 2019 so if you missed this one you will have other chances to join this growing group of problem solvers seeking a better way to convert our bounty of surplus biomass resources and put them to better use as biochar in agriculture and elsewhere.
 _____________________________________________
The California Strategic Growth Council has awarded two significant grants for biochar-related research. Ken Alex, Ex-Director of the Governor's Office of Planning and Research and SGC Chair said, "The SGC research grants are designed to fill gaps in our knowledge about some of the most promising climate change solutions, and move them more quickly to fruition." Biochar production and use was highlighted in the most recent IPCC climate change report as one of the least expensive and easily scaled methods of drawing down carbon from the atmosphere, and this recognition has helped bring the biochar story to the forefront of many climate change mitigation discussions and actions. There is, however, much research that still needs to be done to better characterize which types of biochar will persist the longest in varying agricultural soils, under what type of farming protocols, as well as creation of a standardized system for rating biochars based on a set of common criteria and characteristics. Gaining acceptance from the farming community for biochar production and use using surplus biomass will also be critical for scaling its use, and this will also be studied.
These are some of the gaps in our knowledge about biochars that should be better understood and hopefully answered once this climate-change focused research and field trials are completed. Congratulations to Benjamin Z. Houlton of the UC Davis Muir Institute and collaborators who will be working on a $4.7 million grant project entitled "CALIFORNIA COLLABORATIVE ON CLIMATE CHANGE SOLUTIONS: WORKING LANDS INNOVATION CENTER—CATALYZING NEGATIVE CARBON EMISSIONS." "The Working Lands Innovation Center's objective is to scale and sustain CO2 capture and GHG emissions reductions by deploying a suite of cutting-edge soil amendment technologies, driving substantial co-benefits for California growers, ranchers, Tribes, communities, the economy, and environment.
This project will increase understanding of the mechanisms and potential for carbon sequestration in soil." More information on this grant can be found here: 
http://sgc.ca.gov/programs/climate-research/docs/20181221-CCR_Summary_2019CCR20007.pdf
And congratulations to Gerardo Diaz of UC Merced and collaborators who will be working on the $3 million grant project entitled
"MOBILE BIOCHAR PRODUCTION FOR METHANE EMISSION REDUCTION AND SOIL AMENDMENT."
"The overall goal of this proposal is to determine how biochar can be produced and used in a closed cycle agricultural application to reduce GHG emissions, ameliorate agricultural waste disposal problems, improve the quality of life in low-income and disadvantaged farming and adjacent communities, and identify means to gain acceptance among farmers of small-scale biochar production and use as a sustainable best practice for California agriculture." More information on this grant can be found here: 
http://sgc.ca.gov/programs/climate-research/docs/20181221-CCR_Summary_2019CCR20014.pdf
_________________________________________
If you haven't yet seen the great film Dirt Rich which profiles some of our good friends (Josiah Hunt, David Morell, Bob Wells) you can stream it for a small fee here:
_________________________________
The California Department of Food and Agriculture's (CDFA) Fertilizer Research and Education Program (FREP), in cooperation with the University of California at David,  recently held a well attended Biochar Field Day near Winters, California.
The event brought together researchers, industry representatives and other interested stakeholders to discuss the feasibility of biochar use in agroecosystems. Presentations highlighted research, showcased available resources, and provided up-to-date information on biochar use in California agriculture. CBA was well represented with a number of members in attendance and a poster presentation was given on CBA's mission and goals. Members attending were Steve Fehrer from Butte College, Grant Sheve from Oregon Biochar Solutions, Sophia Pant from Butte College, Michael Maguire from the Governor's Office of Planning and Research, Thor Bailey, Green Carbon Nexus, David Morell and Raymond Baltar from Sonoma Ecology Center, Kevin Foley from Premier Mushrooms, and Bob Norman.
_________________________________
State of California Natural and Working Lands Sector
GHG Reductions and Carbon Sequestration Goals for California's Forests, Rangelands, Wetlands, and Farms

Public Workshop on the California 2030 Natural and Working Lands Climate Change Implementation Plan
_________________________________
I have found this Biochar Network Twitter feed to have some great links to biochar activities around the world.  Check it out. Raymond Baltar https://twitter.com/Biocharnetwork?t=1&cn=ZmxleGlibGVfcmVjc18y&refsrc=email&iid=dd557ed7079e422c98147001b85bb684&uid=2426138166&nid=244+272699405 Save Save
Save
Save